Tina & Mike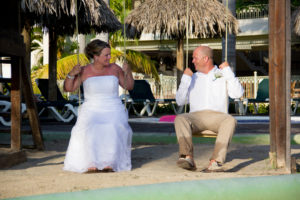 Tina and Mike met through friends in June 2009. Their paths briefly crossed a few times over the next year and they began dating in November 2010. Tina and Mike immediately knew they had found their soulmates in one another and got married on June 27th, the anniversary of the day they met. Due to their desire to start a family, Tina's PCOS diagnosis and getting married later in life, they began fertility treatments one month after they got married.
Initially Tina and Mike believed their journey would be as simple as taking medication for a few months. Unfortunately, they were wrong. For one year, they participated in unsuccessful treatments under the care of Tina's gynecologist. Then, they were referred to a specialist at the Institute for Reproductive Health (IRH). In addition to medical treatments, they participated in holistic treatments such as acupuncture, diet change, essential oils, meditation, Chinese herbs, and fertility massages. During the next 18 months of treatment at IRH, Tina and Mike attempted several IUIs, one surgery and experienced their first miscarriage.
The ongoing disappointment lead to the realization that they would need the help of IVF and they were willing to overcome the financial burden of IVF in order to achieve their dream of parenthood. Unfortunately, IVF resulted in three more miscarriages and an additional surgery. After a lot of reflection, Tina and Mike accepted that their recurrent miscarriages were due to poor quality eggs. Unfortunately, they had already depleted their financial resources, so they would need to ask for financial help in order to use donor eggs, so Tina and Mike took a chance and applied for a Parental Hope Family Grant.
"Our faith and hope in this journey was restored when we learned that we were recipients of a Parental Hope Family Grant," commented Tina and Mike. "Without Parental Hope's help, this opportunity would never have been a reality for us. We are confident that using donor eggs will be the factor that brings us the child we so strongly desire."